Bead Dreamer
Jewelry Designs
by
Carole Scott


Arrow Bracelet - My own design done in flat peyote, shown in two color combinations.


The South African double-faced Stitched necklaces were featured in the Summer 1998 issue of Beadwork Magazine. I took a class from Alexis Jones at the Creative Castle bead store in Newbury Park, CA. This is her adaptation of the technique. I added my own variation by doing a rainbow of color across the necklace with crystals and sead bead loops. Questions about this necklace for Alexis can be answered at Creative Castle (805)499-1377 or e-mailed directly to Alexis.
Feedback to Carole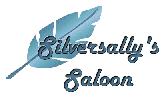 Click on the sign to return
"Silversally's Saloon"!

Click on the sign to visit
"Silversally's General Store"!
This page created and maintained by Brenda McCaw
Graphics by We Can Sing Graphics, 1999 - 2000