Flowers & Feathers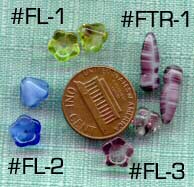 Glass Flowers and Feathers -- flowers have holes through the center,
purple feather has a hole in the shank.

Flowers - pkts of 12 - $1.25
Feathers - pkts of 20 = $1.20
only a few bags of each available.

Product Index

Place your order by e-mail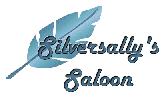 Click on the sign to visit
"Silversally's Saloon"!
This page created and maintained by Brenda McCaw
Graphics by We Can Sing Graphics , 1999 - 2000